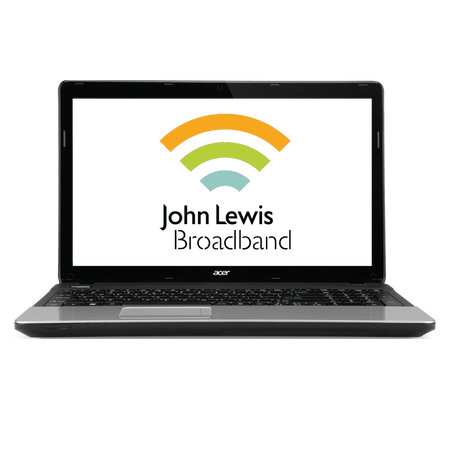 ★★★★☆
John Lewis Broadband
Provided by Plusnet, John Lewis Broadband offers straightforward broadband for those who just want a simple plan with an average speed with no fancy add-ons. That being said, John Lewis can offer a few extras for those who are a little more undecided.
Wondering whether John Lewis broadband is the choice for you? Read our review below to get more of an idea of what you'd be signing up for.
What's on offer?
John Lewis provide the three top variations of broadband:
Unlimited - this is your standard ADSL broadband, with an average speed of 10mbps.
Fibre - also known as superfast fibre optic broadband, this is a little faster than ADSL, with a speed of 36Mbps.
Fibre Extra - this is your standard ADSL broadband, with an average speed of 10Mbps.
All of these options come with extras to entice you even more. You will be provided with unlimited downloads, basic PC security (known as BullGuard), spam filter, plus more. John Lewis broadband also manages your web traffic, so you'll always have a steady connection, with gaming prioritised. However, streaming and broadband speeds may be slower at peak times.
Once you've chosen your broadband, you'll need to choose a plan.The John Lewis broadband subscriptions include:
Evening and Weekend - this is the standard rental choice, which gives you calls to UK landlines on evenings and weekends. A 12-month regular fibre contract will cost £27.50 per month, with an average speed of 35Mbps. Fibre extra costs £32.50 a month, with an average speed of 66Mbps.
Anytime - exactly what it says on the tin; you can make calls to UK landlines any time of day. 12-month contracts cost £33.50 a month, with an average speed of 36Mbps. Fibre extra costs £38.50 with an average speed of 66Mbps.
Anytime and International - anytime calls to UK landlines, plus 300 monthly minutes to around 35 international destinations. Destinations include the likes of Ireland, Australia, the USA, and France.
Mobile bolt-on - this is an add on which you can apply to anytime plans. By doing this, you can also make calls to mobile numbers across the UK.
It is important to remember that "evening" counts as 7pm to 7am and calls only last an hour. You also get some basic calling features such as voicemail and caller ID, and you have the option to expand this by paying extra. These bonuses include call waiting and anonymous call reject.
Pros
There aren't many choices when it comes to subscriptions. Competitors such as Sky offer incentives such as extra TV channels to attract new customers and retain existing ones.
It doesn't offer the fastest download and upload speeds. Virgin Media, for example, offer some of the fastest broadband speeds around.
Although web traffic management can be a plus, it may slow your speed down.
Broadband and phone details come as a combo, and cannot be purchased independently.
Inclusive offers are sparse. There are no Wi-Fi hotspots available like Sky or cloud storage.